オリンピックに反対するフェミニストキャンペーン/Feminist campaign against Olympic games
2021/06/22
アジア女性資料センターは、フェミニスト視点からオリンピックに反対し、廃止を求めています。
As feminists, Asia-Japan Women's Resource Center calls for the cancellation and abolishment of the Olympic Games.
声明文 / Statement
家父長制権力構造を温存する「ジェンダー平等な」解決策を拒否し、東京オリンピック・パラリンピックの即時中止を求める声明
Statement rejecting "Gender equal" solutions that preserve patriarchal power structures and calling for immediate cancellation of the Tokyo Olympics and Paralympics Games
東京オリンピック・パラリンピックにおける ジェンダーにもとづく暴力・ハラスメント対策に関する質問状
【報告】東京オリンピック・パラリンピック競技大会組織委員会より回答がありました:「東京オリンピック・パラリンピックにおける ジェンダーにもとづく暴力・ハラスメント対策に関する質問状」
国際フェミニスト連帯メッセージ
Message / Call for feminist solidarity messages against Tokyo Olympic Games!
Dear sisters,
On Olympics Day, June 23, we will organize a rally in Tokyo to resist the violence of the Olympic Games. We call for sisters around the world to send us (ajwrc@ajwrc.org) your solidarity messages, as well as your stories, experiences and analysis on what sport mega-events would bring on the lives of women and other marginalized groups.
特別公開記事 / Free special articles
「女たちの21世紀」No.99【Make Olympic History オリンピックを過去のものに 「開催1年前!?―反五輪国際イベント」】(首藤久美子)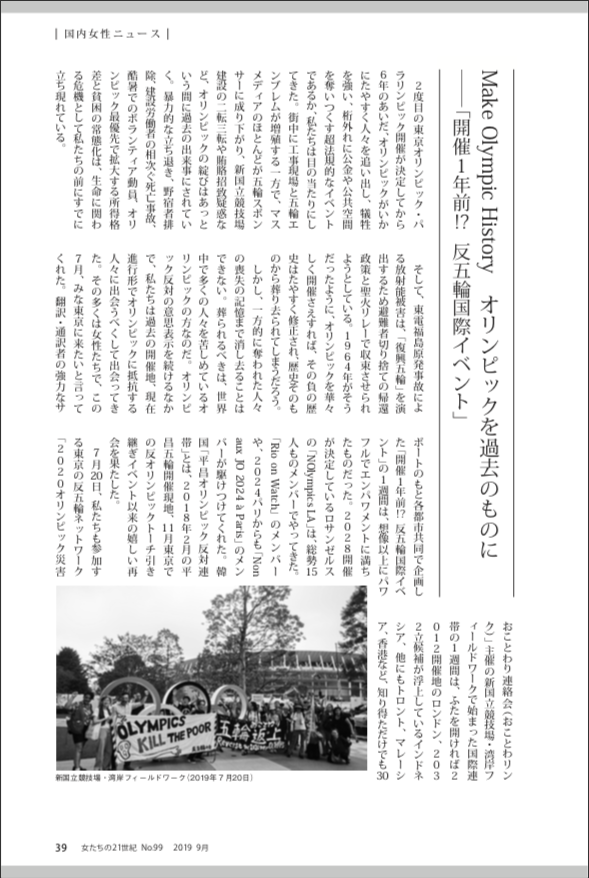 (English article) Make the Olympics history: "Anti-Olympics one year to go! International Get-Together!" 】(Kumiko Sudo)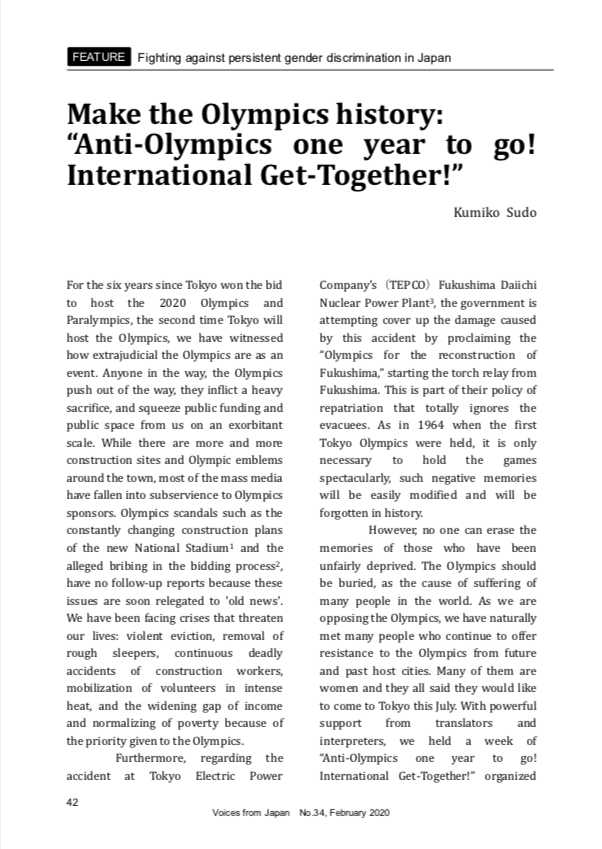 「女たちの21世紀」No.99【反五輪国際共同連帯「どこにもオリンピックはいらない」】(首藤久美子)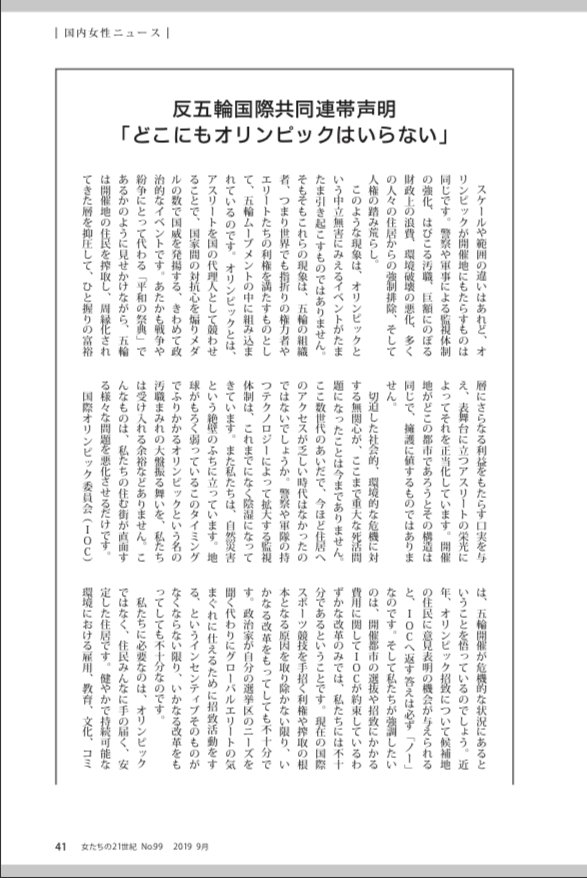 「女たちの21世紀」No.99【〈インタビュー〉アン・オーシエさん 多様な問題に関心をもつ人たちをつなげたい ― ロサンゼルスのオリンピック反対運動】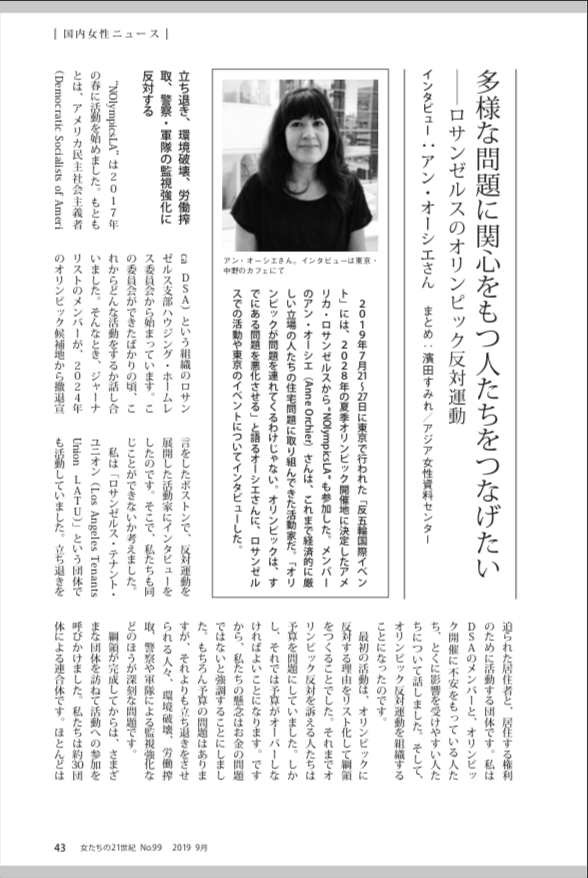 機関紙「女たちの21世紀」
No.99【特集】ジェンダー視点はどこいった?――破綻に向かう日本経済に掲載されている
【インタビュー〉アン・オーシエさん 多様な問題に関心をもつ人たちをつなげたい ― ロサンゼルスのオリンピック反対運動」】をウェブ公開します。
ロサンゼルスで住宅問題をはじめ、さまざまな活動に取り組んできたアン・オーシエさんに、オリンピックによって深刻化する社会問題と現地のオリンピック反対運動について伺いました。